Hog Roast Hire for Garden Parties, Events and Festivals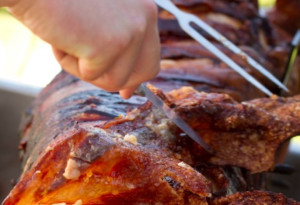 Anytime you need to cater an event whether it's a birthday party, wedding, christening or any other event a hog roast makes a fantastic alternative to the norm.
Just imagine your guests gathered round the warm spit roast, eating succulent warm pork rolls chatting and having a great time. We are experienced in catering for most events and can also offer help and advice on planning and any extras required such as side salads, wraps or any alternative to a regular bread roll.
A hog roast at your event can really create buzz and gets people talking and having an all round good time.
If you would like to discuss your event with us then feel free to call 01524 35134 or e-mail us. We will be more than happy to go over the many options with you and make sure your event is a winner.