Corporate Parties and Events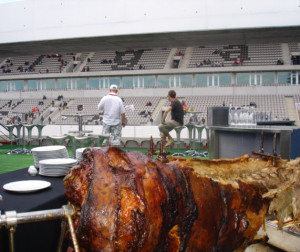 Liven up a staff party or your corporate event with catering with a difference. Our hog roast is a winner with staff and team members at every event. It creates a hub to gather round and enjoy the tasty alternative to the regular sandwiches and sausage rolls we are all too familiar with.
From the events we have covered, staff members have told us they think it's great that the company has taken the time and thought to book them something special and that's so much fun. Also perfect for corporate event days, such as product launches, new departments, summer days and open days. Whatever the time or celebration add the theatre of a sizzling hog roast and the cherry is on the cake.
We have catered many corporate and private business events over out time and can assist with planning and make helpful suggestions to ensure you and your staff have a wonderful and memorable time. Also our hog roast catering is a cost effective solution with no waste or hidden costs so even the Company Accountant should enjoy the day too!
To discuss your up and coming party, please call us on 0152435134, or e-mail us and we will be happy to discuss your requirements.